Colorado Springs Dental Implants, Periodontics & Laser Therapy | Salcetti & Associates
Colorado Springs' Elite Periodontal Specialist
Colorado Springs Dental Implants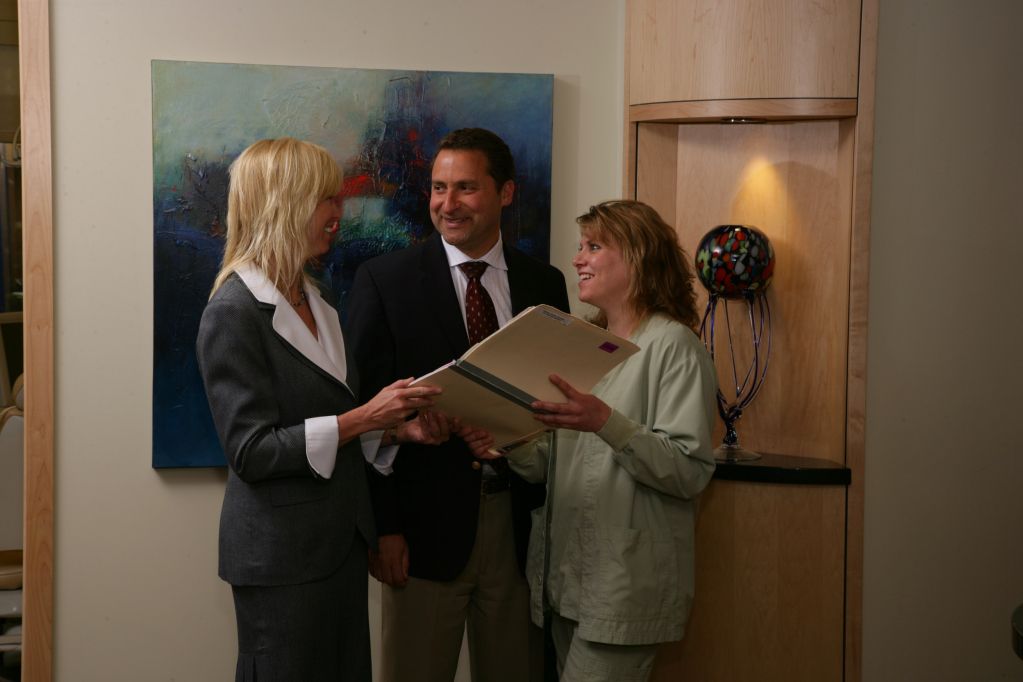 Dr. Jeanne Salcetti, her hygienist, and
one of her patients reviewing his chart.
Choose Periodontics and take the first step toward better dental health!
Dr. Jeanne M. Salcetti is a specialist in Periodontics with a strong foundation in Implantology. Our periodontology practice specializes in non-surgical and surgical treatment of gum disease including cosmetic procedures to aesthetically enhance your smile and dental implants that can replace single or multiple missing teeth. We also diagnose and treat oral pathology, and provide laser dental surgery out of our Colorado Springs office.
Although no one likes to go to the doctor or dentist, Dr. Salcetti and her team strive to make your visit as comfortable and pleasant as possible. We believe that a patients' comfort is an important factor in quality dental care; so we make it our mission to treat every patient with care and respect.
Though we do not require that you be referred by another dentist, Dr. Salcetti and her team are happy to work closely with your referring dentists to meet your needs.
Dr. Salcetti is extremely proud of her periodontic team, which is comprised of some of the most caring and dedicated dental professionals in the Colorado Springs and Denver areas. Her team communicates well with the patients and ensures that each patient's surgical and administrative needs are met as efficiently as possible.
As one of the top Periodontists in the Colorado Springs and Denver area, we strive to make you feel as comfortable and relaxed as possible during your visit to our oral surgery center. As dental professionals, we are here to listen to your questions and concerns about dental health, laser therapy, periodontology, and we are happy to provide solutions that will improve your health.
Schedule Your Initial Periodontal Evaluation Today!
If you are considering a Periodontitis treatment and are looking for a qualified oral surgeon in the Colorado Springs area, contact Salcetti & Associates at (719) 594-0091 to schedule an initial evaluation and start the path to a more beautiful smile and better health! For the best Colorado Springs dental implants, call today!